All the best things in one healthy drink
Convenient, healthy and nutritious. Say hello to the future of food.
Order Now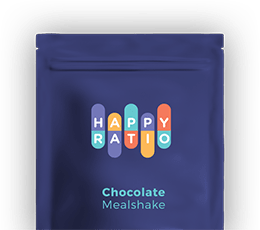 Available on
Amazon Prime

5 star rating
on Amazon

Approved by
FSSAI
39 nutrients, 25% of RDA
Perfectly proportioned carbs, fats, proteins, Omega 3s, fibre, minerals and vitamins.
200 kcals and 3 hours of energy
Steadily absorbed in the blood stream over 3 hours, keeping you active through out the day.
Ready in 45 seconds
Just mix a pack with water, shake and drink. Have it anywhere, any time.
Healthy, nutritious food for today's fast paced life
Modern day living has screwed up our eating habits. Skipping meals, having quick bites of junk food and unhealthy snacking have left us fatigued, un-energetic and nutritionally deficient. Happy Ratio is here to fix that.
13 Vitamins,
15 Minerals, 3 Macronutrients.
Balanced proportions of Nutrients to meet your body's needs.
Lower carbs,
lower fats, higher protein.
Special ratio of calories from proteins, carbs and fats for better overall nutrition.
Healthier oils,
better sugars, better proteins.
Unique oil blend. Special low GI carbs. Most researched complete protein source.
High Protein
No Cholesterol
GMO Free
Soy Free
Gluten Free
Nut Free
100% Vegetarian
No Added Sucrose
Low Glycemic Index
Unsaturated Fats
Low Saturated Fat
No MSG
Perfect for everyone
Pre-processed, safe ingredients that are known not to cause any side effects, from reputed world class suppliers.
Weight Watchers
Satiate your appetite with a nutritious, balanced meal. End cravings and snacking.
Busy Professionals
Cut down drastically on time spent shopping, cooking and eating. Finish meals in a jiffy.
Fitness Enthusiasts
Know how many calories you're consuming. Get all your nutrients in a meal.
I'm a Manager who lives a moderately active lifestyle. I exercise or play sports about three times a week. I have Happy Ratio for dinner because it is convenient and easy to digest.

My hectic job makes my meals rushed and I end up having unhealthy, unhygienic food. Happy Ratio is solving one of my biggest problems!

My baby keeps me on my toes all day, and sometimes all night too! I have Happy Ratio when things are hectic, and it keeps me going on and on like a battery.

I am physically active about three times a week. I use Happy Ratio as a full meal when traveling for work. It ensures I get a balanced meal wherever I go.

I have Happy Ratio because I am usually out of my home at meal times. I've found that it's the healthiest and most convenient option available to me.

I live a moderately active lifestyle. Happy Ratio for breakfast keeps me full to go through a morning full of meetings without having to worry about planning a meal.

Even though I live a pretty active lifestyle, I have Happy Ratio for lunch because it's quick, tasty and nutritious. I feel charged after and keeps me energised through the day.